The annual general meeting of the Projekt Blinden Vision e.V. took place virtually via video conference this year. This allowed some members to participate online who otherwise could not be there because of a long journey.
Bernd Wagner reported in detail about the status of the project and the current situation in Romania. We are pleased that the team on site was able to organize numerous activities with the children again this year with great motivation.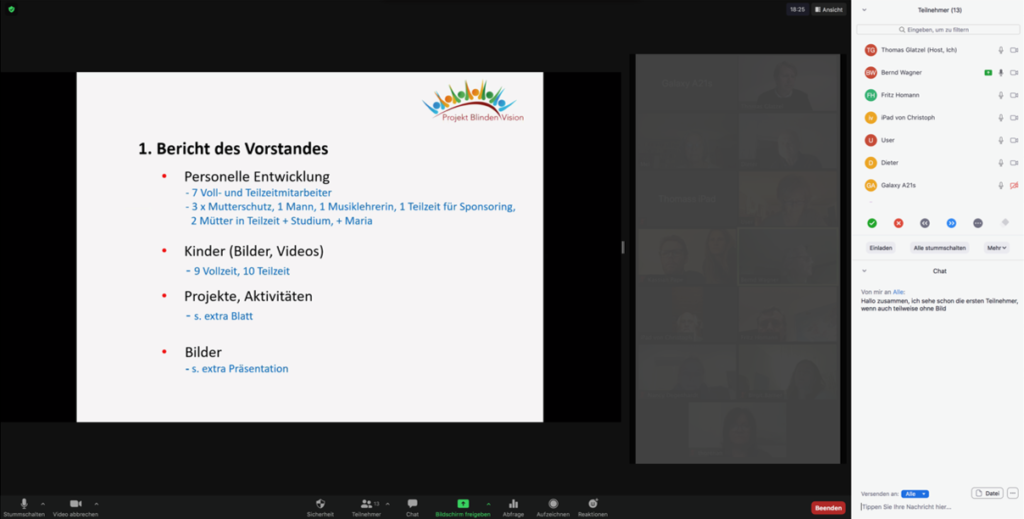 The topics were also discussed in a very structured manner digitally, and the digital vote on the discharge of the Executive Board saved quite a bit of time. Nevertheless, the final personal discussions about the work of the past year over a relaxed glass of wine were of course missing.
A big thank you goes to the professional preparation by Thomas Glatzel and Bernd Wagner. The board is convinced that the general meeting has laid a good foundation for the coming year.
Due to the exceptionally high support of one member, we are confident to be able to raise the salaries of the team on site next year. This will allow for further recognition of the team's work in financial terms as well. Many thanks for this!